Celebrating Software.org's Seventh Annual Girls Who Code Classroom
July 29, 2021
There is no denying that the gender gap in science, technology, engineering, and math (STEM) is real. With women making up only 28 percent of the STEM workforce, taking action to provide young girls with opportunities to pursue careers in STEM fields is essential. One of the ways Software.org works to increase diversity and close the gender gap in STEM is by partnering with Girls Who Code to host an annual Summer Immersion Program (SIP).
We've proudly partnered with Girls Who Code since 2015 and have hosted a virtual classroom for the past two years, expanding our reach outside of DC to welcome girls from communities across the eastern seaboard. This year, we were pleased to welcome our largest ever class, with 61 students from 13 states, the District of Columbia, and Puerto Rico.
Over the course of 2 weeks, our students—many of whom had no prior coding experience—learned HTML, CSS, and JavaScript. The girls built their own personality quiz using HTML and CSS and created a personal website on a topic of their choice. In addition to learning coding skills, the girls in our classroom also had the chance to meet leaders in the tech industry and potential future mentors as part of a series of events hosted by Software.org.
For our first virtual event, we brought together Software.org President Victoria Espinel, Girls Who Code CEO Dr. Tarika Barrett, and four women in Congress: US Senator Shelley Moore Capito and Representatives Chrissy Houlahan, Deborah Ross, and Jennifer Wexton. Our guests shared their stories and applauded our classroom for taking the time to learn to code. "By pursuing your interest in STEM, you girls are sending a clear reminder not just to your contemporaries but also to us adults that the future of STEM looks more like the country as whole," said Congresswoman Houlahan, the founder of the Women in STEM Caucus.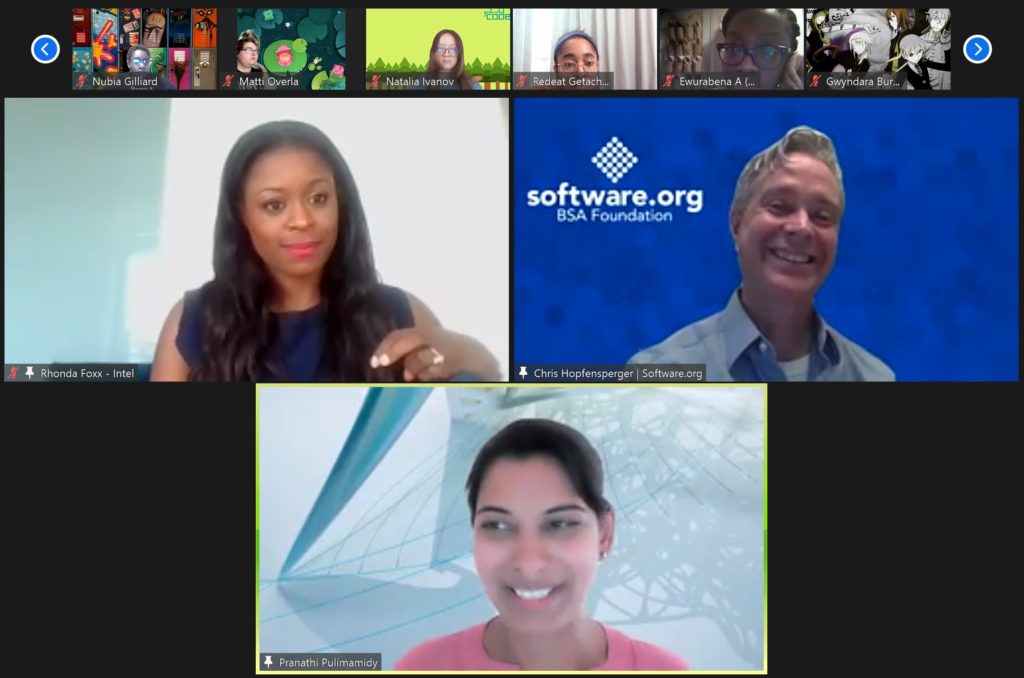 Software.org's Executive Director Chris Hopfensperger moderated our second panel, featuring two distinguished women working at leading software companies: Pranathi Pulimamidy, Director of Engineering at Autodesk, and Rhonda Foxx, Head of External Affairs at Intel. Our speakers shared their experiences as women in tech, including their career trajectories and the challenges they face working in the industry. During an open Q&A session with our students, both women offered advice on building personal brands, overcoming imposter syndrome, and using current virtual opportunities to your advantage. "When you are climbing and moving ahead in your careers, just remember that we have a responsibility to do the right thing," Rhonda said while reminding the girls to never be afraid to make their voices heard.
Software.org also hosted three mentorship workshops to help our students learn important skills including how to build a resume, stand out in the college application process, find mentors, and network.
Since most of our students were high school juniors and seniors considering college, our first mentorship workshop featured three women in academia: Dr. Paige E. Smith, Director of the Women in Engineering Program at the University of Maryland; Dr. Carol O'Donnell, Director of the Smithsonian Science Education Center; and April Doss, Executive Director at the Georgetown Law Institute for Technology Law & Policy. Our panelists shared their backgrounds and insights into pursuing STEM in higher education.
Our second workshop focused on the importance of mentorship, networking, and career building. We were joined by three panelists from Software.org— Stefania Durden, Tina Furuki, and Hanna Pioske—as well as Danielle Gilliam-Moore, Senior Manager, Global Public Policy at Salesforce and Leticia Lewis, Director, LATAM Public Policy at Twilio. Speakers gave students advice on using LinkedIn for networking, drafting a resume, as well as helpful pointers for their final projects.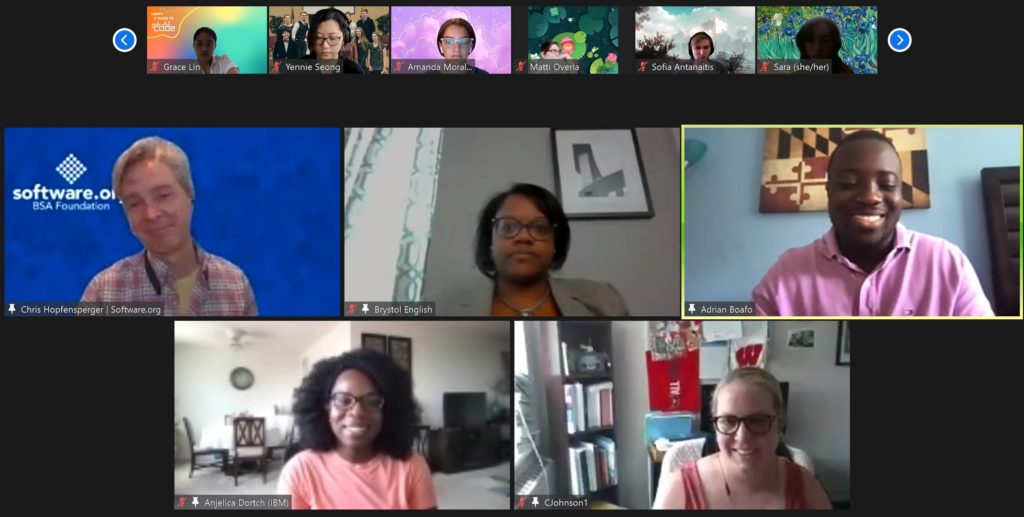 Highlighting the fact that every sector is a software sector, our final mentorship workshop featured a panel of current and former Capitol Hill and Administration staff. We were joined by Adrian Boafo, Director of Government Affairs at Oracle; Anjelica Dortch, Technology Policy Executive at IBM; and Brystol English and Cate Johnson, staffers on the House Committee on Space, Science, and Technology. Students learned about behind-the-scenes work on the Hill, the interconnection between government and technology, the importance of internships, and the many opportunities available for people with tech backgrounds in policy roles.
Across the country, even during the midst of the COVID-19 pandemic, we've seen a rapid increase in software related jobs. But we must work to ensure that anyone who wants a job in tech can gain the skills they need to pursue those opportunities. By supporting initiatives like Girls Who Code, Software.org is helping young women find a place in this growing field.
Congratulations to the Girls Who Code Class of 2021 for their hard work and outstanding achievement this summer!
Recent Posts
Jake Morabito
Program Manager, Software.org
Jake Morabito serves as Program Manager at Software.org: the BSA Foundation. In this capacity, he provides research, analysis, and project management support for the Foundation's key organizational initiatives and events.