Issue Brief:
COVID-19 Vaccine
Distribution Puts Spotlight
on Blockchain Benefits
Overview
There is great anticipation and hope that the development of the Covid-19 vaccines will allow our lives to begin to return to normal. But the effectiveness of the vaccines depends on many factors including successful distribution. This is a place where software-enabled technologies — including emerging advances like blockchain — can play a role. While the potential benefits of blockchain technology remain underappreciated, its role in the distribution and security of the vaccine for Covid-19 presents an opportunity to help better understand how blockchain works, and how it benefits sectors across the economy.
Blockchain technology can be used in a variety of ways to support immunization efforts: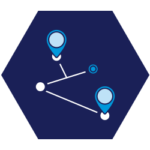 STORAGE AND
TRANSPORTATION