Artificial Intelligence: What It Is and How It Works
Artificial Intelligence is any technique that enables computers to mimic human behavior using logic, if-then rules, or machine learning
Since the early 1950s, subsequent breakthroughs in artificial intelligence have created new subsets — machine learning and deep learning — that have in turn helped unlock even larger opportunities to solve bigger problems.
What Is Machine Learning?
Machine learning uses statistical methods to enable machines to improve with experience.
How Machine Learning Validates Predictions
Machine learning involves systems that learn by taking advantage of statistical methods that allow improvement with experience.
These systems are "trained," often with human input using large amounts of data.
Machine learning models rely on algorithms in order to learn how to respond to a given set of data.
Over time these systems develop a model based on past patterns in data that informs how they make predictions when fed new datasets.
What Is Deep Learning?
A subset of machine learning, deep learning enables software to train itself to recognize patterns in abstract data, like speech and image recognition, by exposing multi-layered neural networks to vast databases.
It is called "deep" because these systems break down the problem into many neuron-sized chunks, and automatically generate multiple layers of abstractions of the data to identify patterns.
How Deep Neural Networks Make Decisions From Experience
Deep learning, which enables computers to learn to recognize abstract patterns like a cat in a photo or voices from sound, works by simulating large, multi-layered webs of virtual neurons.
When a neuron fires in one layer, it delivers a value of "1" to certain neurons in the next layer, which will in turn fire if it encounters a sufficient stimulus of "1" inputs.
To recognize a cat, it first divides the image into pixels, then layer by layer it seeks to identify edges, contours, features, combinations of features, and then the object itself.
To train the system, researchers input large data sets which, for example, might include millions of photos.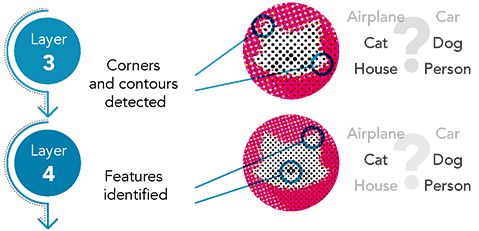 Every time the data is run through, the neurons pick up more detail about the photos, until after dozens of times, they have learned enough details to recognize the object.